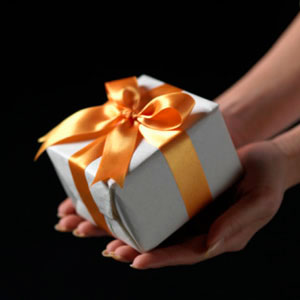 I think most people like to receive gifts.  It's especially fun when it's something you have anticipated for a long time! Some gifts are just for fun, and they might not even last very long, but there are also gifts that are well made and worth keeping for many years!  I have received books and clothing and even an instrument as gifts during my life.  These things have been useful and meaningful, and some of them are still with me.  However, there is one gift I have received, besides my actual life and body, that is worth more than all the other gifts I have ever been given, and that is the gift of the Holy Ghost. 
Following the ordinance of baptism, the hands of worthy priesthood holders are placed on the head of the person for a blessing of confirmation as a member of the Church of Jesus Christ of Latter-day Saints and the Gift of the Holy Ghost.  This gift is given so that we may have the Spirit with us always, to lead, guide and comfort us so that we might be able to continue on the right path and live according to the principles outlined in the gospel.  Then we will be able to return to live with our Heavenly Father. 
We are able to keep the Gift of the Holy Ghost as long as we are working to be obedient to the commandments. When we make mistakes or poor choices, we can repent and we are blessed to have the Holy Ghost remain with us. 
The Holy Ghost is a person, just like Jesus Christ and Heavenly Father, but he does not have a body.  Because he is a personage of spirit, he is able to communicate with our spirits more readily. He can warn us of danger and help us to feel safe and comforted.  He can prompt us to call a friend in need or even help us to understand something we are trying to learn.  One of the most important things the Holy Ghost does for us is testify of the truthfulness of the gospel of Jesus Christ.  One of my favorite scriptures in the Book of Mormon is Moroni 10:5.  "And by the power of the Holy Ghost,  ye may know the truth of all things."
I am thankful that we have the Holy Ghost to guide us and testify to us of truth. Heavenly Father is so generous as he blesses us each day!